The body of the Hydraulic agitator SUPERMIX contains three circuits:
A Pressure
B Return
C Product injection, additional pump or air mixing
Circuit A: PRESSURE
By using the working pressure, the mixing power of SUPERMIX is greater than the performance of traditional systems, ensuring a flow rate of 300 to 1300 l/min. depending on the pump and nozzle used.
Circuit B: RETURN
This circuit utilises the pump return flow during limit, control and tank filling operations, when all the pump delivery fluid passes through the circuit. Recommended for low-pressure treatments, average and low volumes, pneumatic systems and spraying.
• Can be adapted to various tank shapes
• Double Venturi circuit to increase efficiency and reduce water consumption
• Threaded G ½ connector for simple installation on tank
• Suitable for low pressure (nozzles Ø 5-7-9- mm) or high pressure (nozzles Ø 2-3 mm) operation
• Polypropylene body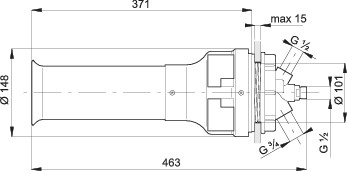 Hydaulic Agitator, easy inspection XL
Total length 362mm
Connection ½"M

AGITATOR STD IH
Hydraulic agitator with inspection hole
Available with elbow or straight threaded connection
Elbow: ½"M – total length 255mm
Straight : ½"M – total length 223mm


Hydraulic powder mixer
Connection ½"M
"Cap" diameter : 128mm