Automatic shut-off valve to clean the filter (not on 100l')
Auxiliary suction inlet to fill the tank
Valve release knob
Capacity : 100l' 160l' 220l' 260l'
Connection options :
– male threads , from 1¼" to 2″
– forks , from 1½" to 2″
Capacity : 80-100l' 280L'
with and without drain valve
connection options :
– female threads , from ½" to 1½"
– forks ,1¼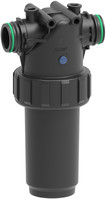 Brass body
Connection ½"F
Material of screen : inox
Capacity : 70l'
Max.Pressure 50b
Particularly suitable with sprayers and atomisers
Double inlet and outlet couplings G 3/4″ and G 1/2″
Fibreglass-reinforced nylon body
O'ring sealing the VITON® cover
Supplied with ½" ball valve to bleed the filter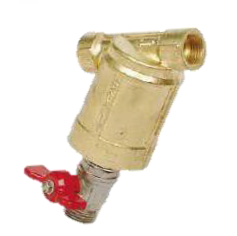 Polypropylene body, EPDM gaskets
Working pressure 10 bar max (145 PSI max)
Connection options : 2" and 1½"
This suction filter is designed to operate a few centimetres beneath the water surface, thus preventing any risk of obstruction caused by the mud lying on the bottom or debris floating on the surface. The filter floats thanks to a closed-cell foam ring that prevents it from sinking even in case of accidental breakage. A counterweight ensures adequate balancing so that the suction point is always just beneath the water surface. The plastic parts are made of top-quality polypropylene while the ample filtering surface is built with stainless steel. This filter is available with different coupling diameters for the suction pipe 30mm, 33mm, 40mm, 50mm.
Available with different diameters (201 ÷ 400) and different height options.
Screen 18M
foot strainers and detergent filters
Thanks to the walls built with double crossing relief grating, obstructions can be removed quite easily.
The trapezoidal shape and chamfered corners ensure complete suction in every position without damaging tank walls.
Available with diameter 100mm or 150mm, and hose tails 19mm, 25mm and 50mm. Also available foot filters with diameter 70mm and connection thread ¾"M or 1"M.
Suction filter for detergent (with counterweight)
Diameter 21mm, Hose tail available for 08mm and 10mm hose.