BRASS HOSE TAILS assemblies - std
Available with straight or 90degree hose tail, these assemblies include tail, gasket and fly nut ½"
Spare fly nut and gasket available as a loose spare part. Hexagonal nut available on request.
Available hose tail size : 08mm 10mm and 13mm for the straight version, 10mm and 13mm for the 90degree.
BRASS HOSE TAILS assemblies - dbl
Double shank and hose tail, these assemblies include tail, gasket and fly nut.
Spare fly nut and gasket available as a loose spare part. Hexagonal nut available on request.
Available hose tail size : 10mm 13mm and 19mm
PLEASE NOTE : for the tails 10mm and 13mm the nut is ½", for the 19mm tails the nut is ¾"

Brass hose joiners : straight – available for hose size : 08mm 10mm and 13mm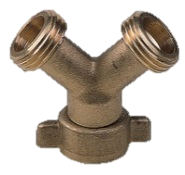 Brass hose joiners "Y-shaped" – available in the version MMF (displayed) and MMM – all threads ½"