Electric boom section valve with flange connection
Fibreglass-reinforced Nylon body
Internal parts in Delrin® and AISI 303 stainless steel
Gaskets made of Viton®
Internal resettable fuse (disconnecting power for 20 seconds)
Suitable for connection to metered by-pass (40b model)
Available 20b and 40b models
Electric proportional control valve with flange connection
Adjusts the flow in the control units in which treatments vary in proportion with engine rpm (DPM)
Fibreglass-reinforced Nylon body
Internal parts in Delrin® and AISI 303 stainless steel
Gaskets made of Viton®
Internal resettable fuse (disconnecting power for 20 seconds)
Available models : on-off 14" and on-off 7"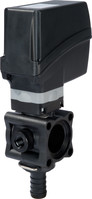 ARAG VALVES SERIES 873 - high flow rate
Electric boom section valve with flange connection
Reinforced Nylon body
Internal parts in Delrin® and AISI 303 stainless steel
Gaskets made of Viton®
High ¬flow rate 120 l/min (31 US GPM)
Internal resettable fuse (disconnecting power for 20 seconds)
Electric proportional control valve with flange connection
Adjusts the flow in the control units in which treatments vary in proportion with engine rpm (DPM)
Reinforced Nylon body
Internal parts in AISI 303 stainless steel
Gaskets made of Viton®
Flow rate 240 l/min (63 US GPM)
Internal resettable fuse (disconnecting power for 20 seconds)
Available models : on-off 14" and on-off 7"

Main control valve with adjustable pressure relief valve with flange connection
Fibreglass-reinforced Nylon body
Internal parts in Delrin® and AISI 303 stainless steel
Gaskets made of Viton®
Internal resettable fuse (disconnecting power for 20 seconds)
Available 20b and 30b models
Version with T-fork connector, available on request
Electric boom section valve with fork connection
Fibreglass-reinforced Nylon body
Internal parts in Delrin® and AISI 303 stainless steel
Gaskets made of Viton®
Internal resettable fuse (disconnecting power for 20 seconds)
Available as a single valve or in banks, with or without flange for Pressure Gauges
Electric proportional control valve with fork connection
Adjusts the flow in the control units in which treatments vary in proportion with engine rpm (DPM)
Fibreglass-reinforced Nylon body
Internal parts in Delrin® and AISI 303 stainless steel
Gaskets made of Viton®
Internal resettable fuse (disconnecting power for 20 seconds)
On-Off : 7"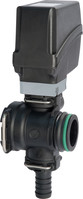 The electric ball valves of the 853 series are the result of a special design focused on the functionality and reliability of an accessory that is essential both in the agricultural and in the industrial field.
All valves have technical features that make them unique on the market and safe and reliable parts for any type of system.
A complete range consisting of 2-way and 3-way valves, the electric valves of the 853 series feature a new completely redesigned gear motor that allows a longer duration as well as great reliability.
STAINLESS steel rotation pin, TEFLON® ball seats, Internal O-rings in VITON®, Internal ball in stainless steel or PE-UHMW, Stainless steel flange tie-rods, protected by the valve body, Gear motor easy orientation, Simple maintenance: the motor can be easily separated from the valve, Available with fork couplings, male and female threads.